FOR MANY APPLICATIONS CONSIDER THE ADVANTAGES
Polyester strap most closely resembles steel strapping in its physical characteristics.
Polyester strapping withstand higher tensioning than other plastic strapping up to 25% higher, with equivalent break strengths. It will retain tension on rigid loads better than other non-metallic strapping.
The minimal elongation properties of polyester strapping further ensure tight straps on setting loads during handing so loads are more stable. if tensioned within the proper limits, it will elongate only 1% to 3% and after tensioning is relieved it will recover up to 99% of its initial sizes.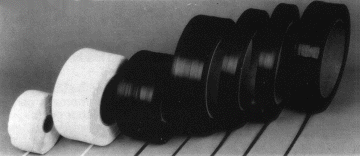 Universal's polyester strapping is virtually unaffected by weather or ultraviolet rays. It is significantly lower in cost than steel strapping, a lot safer to use, and easier to dispose of, too.
Considering all of the above, polyester strapping has become a wise choice as a steel strapping replacement.